On 31st October 2022, the grand occasion of Fintech in Asia - Hong Kong Fintech Week has kicked off. On the same day, Financial Services and the Treasury Bureau of Hong Kong (FSTB) officially released the "Policy Statement on Development of Virtual Assets in Hong Kong", to clarify the government's policy stance and policy on the thriving virtual assets ("VA") industry and ecosystem in Hong Kong.
According to the statement, while the government is stepping up its preparation for the brand-new Virtual Assets Service Provider (VASP) licensing regime, it is also pleased to affiliate with the global VA industry and invite related trading platforms to explore business development in Hong Kong. The Securities and Futures Commission of Hong Kong (HKSFC) will be conducting a public consultation on how retail investors may be given a suitable degree of access to VA under the new licensing regime. The government is open to the possibility of having Exchange Traded Fund (ETF) on VA in Hong Kong and is open to the future review of property rights for tokenised assets as well as the legality of smart contracts, to facilitate their development in Hong Kong.
The government statement has elaborated Hong Kong government's vision, strategy, regulatory regime, and attitude towards opening access to VA for investors, and the pilot programme to capture the technological advantages of VA. The Hong Kong government has now clearly expressed its policy stance on VA to the global market, demonstrating its attitude and determination to explore financial innovation with the global VA industry.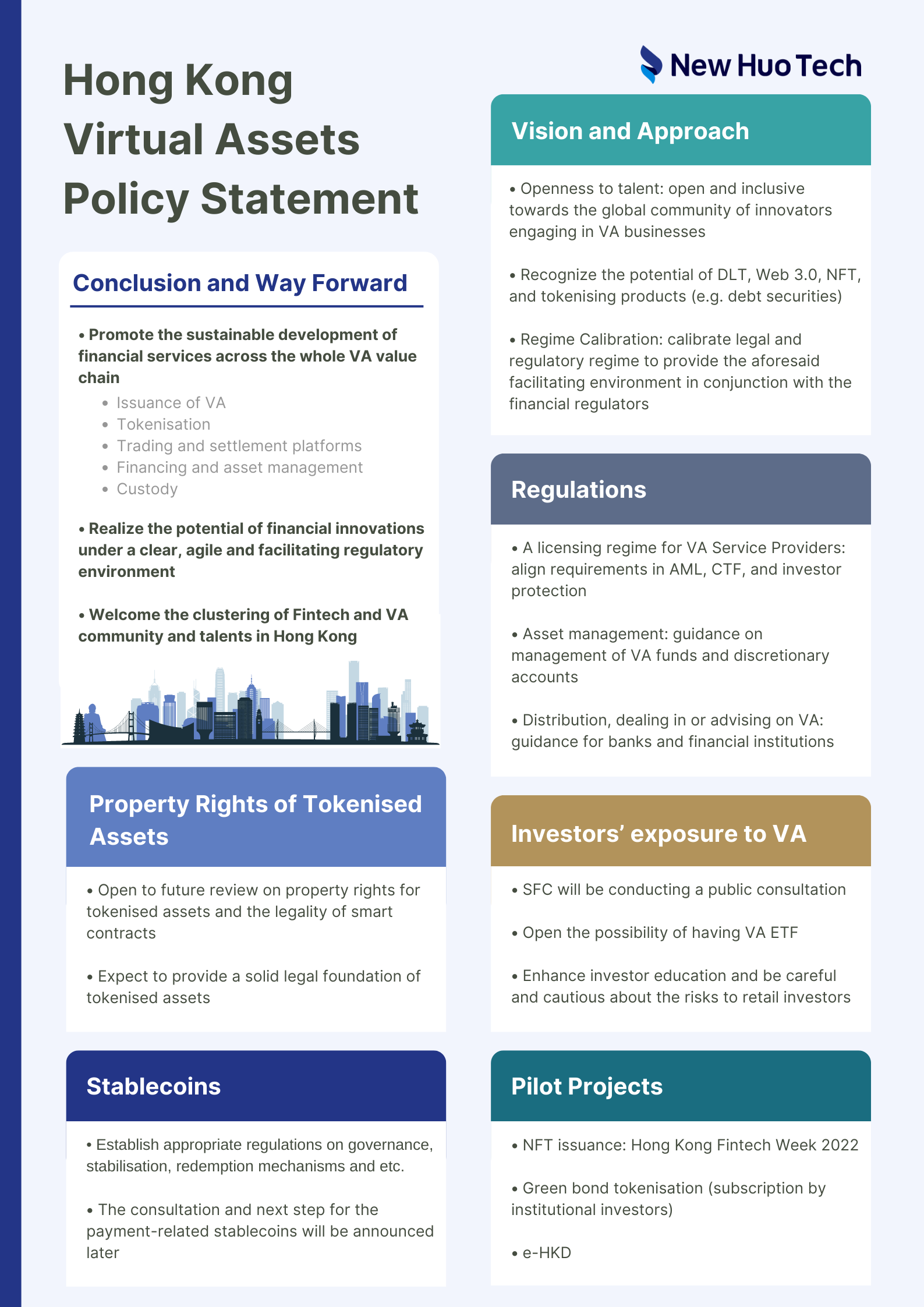 New Huo Technology Holdings Limited ("New Huo Tech" or the "Company", previously named "Huobi Tech", Stock Code: 1611. HK), as a leading one-stop digital asset service platform, has been actively building its compliance protocol. The further clarity of the regulatory framework in Hong Kong has provided a positive catalyst for the growth of the VA business that the Company has been committed to developing, gradually reflecting the Company's first-mover advantage in compliance operations.
New Huo Tech has attached great importance to compliance since its operation and has been preparing the groundwork for its license applications from an early time. The Company (through its subsidiaries) is proactively applying for various licenses related to VA and finance. Its asset management subsidiary, the second asset manager obtaining type 4 (advising on the securities) and type 9 (asset management) licenses from HKSFC to manage a portfolio that is 100% invested in VA, is providing VA fund products with different risk preferences to the market. Its custody business subsidiary is registered as a trust company in Hong Kong with a Trust or Company Service Provider (TCSP) license. ThisOther subsidiaries have successfully obtained the Money Service Business (MSB) Registry from the United States and Canada this year.
Meanwhile, to provide professional VA trading service, we are proactively applying for the type 1 (dealing in securities) and type 7 (providing automated trading service) licenses issued by HKSFC, to conduct as a compliant VA trading platform in Hong Kong. With the opening of such a service to retail investors in the future, we believe that we can bring high-quality service to wider groups of clients.
As one of the world's important financial centres Hong Kong has a unique geographical advantage, special political status, and cultural environment, therefore owns profound experience and capital accumulation in terms of financial market and technological innovations. We are optimistic about Hong Kong's future development prospects in virtual assets, Fintech and Web 3.0. We will keep an eye on the regulatory development while further improving the business layout.