On Mar 23, 2022, Huobi Technology Holdings Limited ("Huobi Tech",stock code: 1611.HK) Compliance Director Elaine Sun was invited to attend EmergentX Digital Asset Virtual Summit 2022 and share insights during the panel discussion " how should market participants best position themselves for regulatory change and innovation".
The Summit which gained innovative enterprises and experts from virtual assets, fintech and traditional finance, was aiming to hold thematic discussions on the trends and prospects of virtual assets and blockchain industry. Among this, the panelists with Huobi Tech included Worldpay legal VP, Adrian Clevenot, Freshfields Bruckhaus Deringer Consultant, Kenneth Hui, senior digital assets lawyer, Daniel Lai, and the panel was moderated by the co-chair of the Blockchain Committee of the Hong Kong Fintech Association, Kat Kukreja.
Liaise with the Industry to Boost Friendly Communication with Regulatory Authorities
From the market value of virtual assets hitting all-time-highs in 2021, to over 100 of countries participating in CBDC projects, the regulators and institutional investors around the world have gradually entered into the virtual assets market. Given the growing market size and the influence of the virtual assets, Elaine said that the most urgent task for global regulators is to set up a clear regulatory regime for the industry. It is worth mentioning that several government agencies in Hong Kong have reaffirmed the establishment of the licensing regime of Virtual Asset Service Provider (VASP) earlier this year, to further clarify the scope of supervision.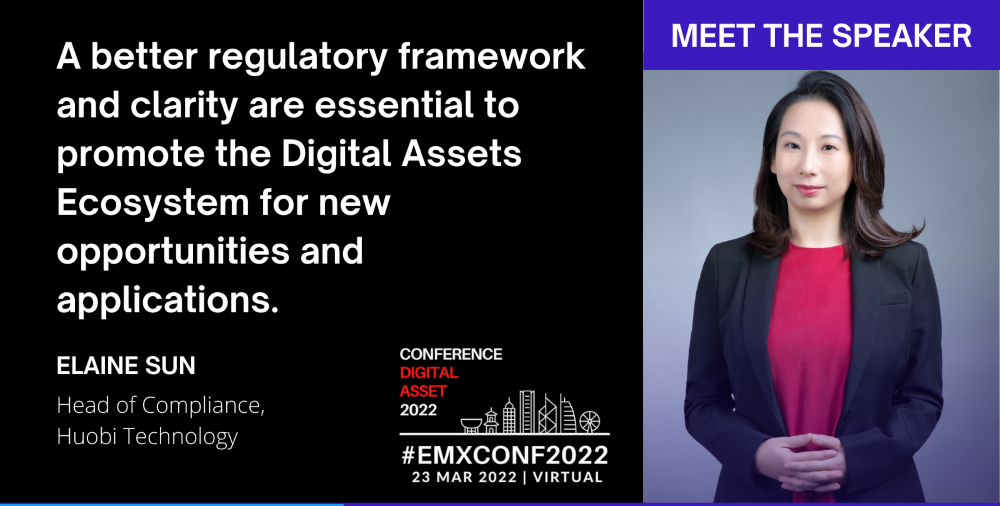 Referring to strengthening regulators' confidence in the industry, Elaine stated, recently, the Solidus Labs led Huobi Tech, jointly with other leading crypto companies like Coinbase, successfully launched Crypto Market Integrity Coalition (CMIC). "CMIC builds regulatory and investor confidence in virtual assets through our mutual accountability, transparency and clear definition of the types of market abuse and manipulation. For the future operational plans, we will have training programs of knowledge and code of conduct, encourage members to share industry research and insights, as well as wish to compile these good practices into industry standards. We would prefer to work with the industry to engage in open and sincere communication with global regulators and to promote the set-up of regulatory work."
Institutional Investors Flood in , Significant First-Mover Advantage for Licensed VASPs
When talking about the relationship between traditional financial institutions and the virtual assets industry, Elaine said that an increasing number of institutions have already or planned to incorporate assets like BTC and ETH into their portfolios or platforms.
More institutional investors choose to cooperate with the regulated VASPs for sake of the security and compliance, and pay attention to the counterparty's reputational risk and risk level. Huobi Tech, as one of the first virtual asset management companies in Hong Kong to receive the Types 4 and 9 regulated activities licenses from SFC through its subsidiary, will actively use its first-mover advantage, as well as deeply research on the emerging products, wishing to cooperate with more institutional investors in the market.
Regarding the compliance process in Hong Kong, Elaine said that although the current regulations still stipulate that licensed service providers can only open to professional investors, the joint circular issued by Hong Kong Monetary Authority (HKMA) and the Hong Kong Securities and Futures Commission (SFC) in January this year also mentioned that a limited suite of VA-related derivative products are traded on regulated exchanges specified by the SFC, and in the case of exchange-traded VA derivative funds, they are authorised or approved for offering to retail investors by the respective regulator in a designated jurisdiction (including Australia, U.K. and U.S.). It can be seen that regulators are willing to expand the industry's development possibilities within the controllable risks.
As a leading one-stop virtual assets service platform, Huobi Tech's virtual asset ecosystem provides institutional investors with compliance and security closed-loop services with strategies of compliance priority and business-diversified, meeting investors' needs for asset management, trust and custody, OTC, lending and exchange. Looking forward, Huobi Tech will continue to work with the industry to promote the global compliance process.