[March 20, 2023] On March 10th, New Huo Technology Holdings Limited("New Huo Tech", 1611.HK) was invited to attend the 2023 IPBA Annual Conference held at JW Marriott Marquis Hotel in Dubai. Ms. Amanda Li, Deputy Director of Legal Affairs of New Fire Technology, was present to share her speech.
The Pacific Rim Bar Association (IPBA) is a global professional association of lawyers across jurisdictions, and this IPBA annual conference in Dubai is the first fully international offline conference since 2019.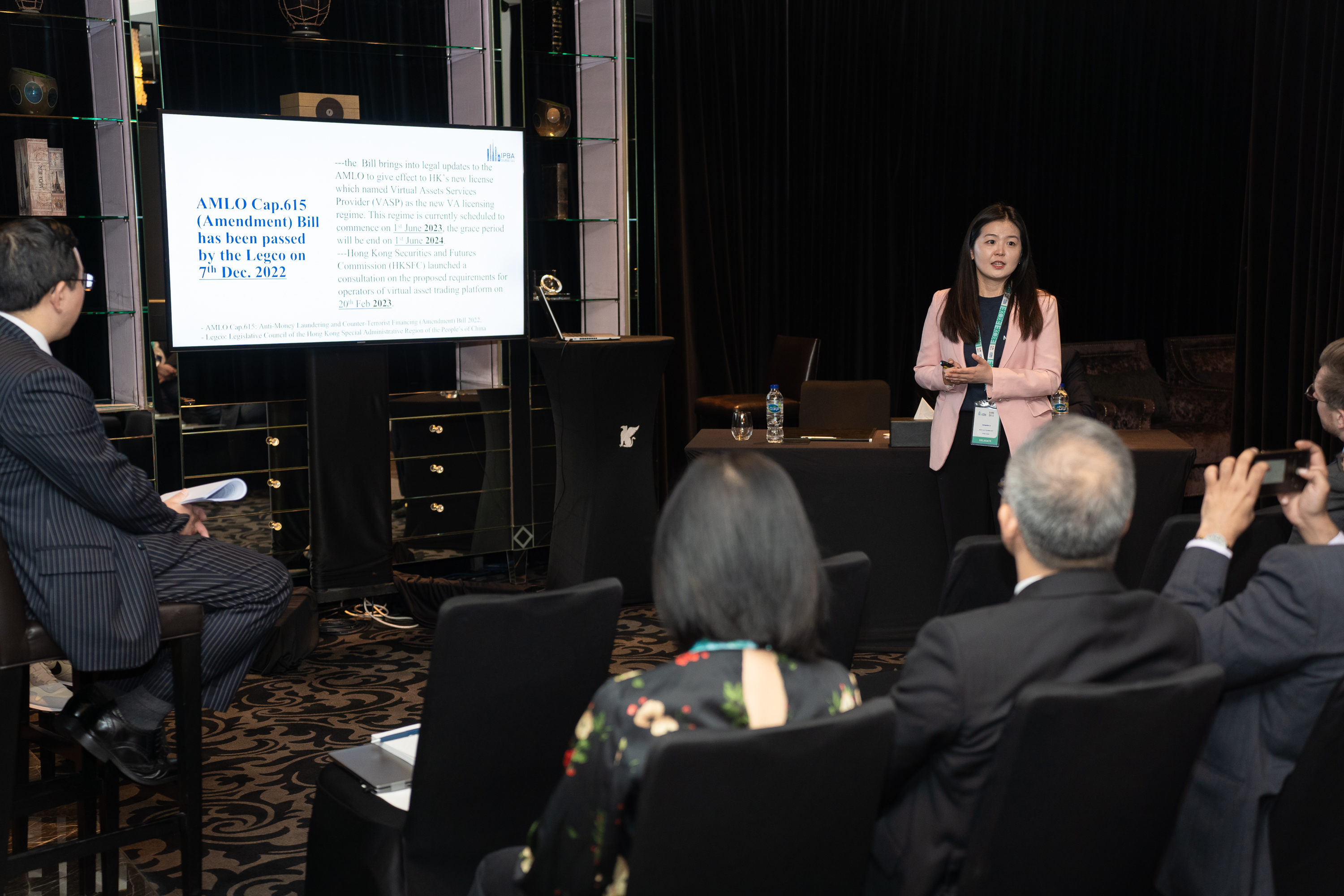 Ms. Amanda Li, a representative of New Huo Tech, was invited to attend and speak at the annual conference as a speaker on the topic of the digital art field/NFT/Web3.0. She had an in-depth exchange with lawyers from different jurisdictions and shared comprehensively with the participants on the rise of digital art. While discussing the current state of the NFT industry in different regions, Ms. Amanda Li emphasized the importance of securing escrow for NFT artworks.
Other participants included Laurens Kasteleijn (digital art tech) from the Netherlands, Faisal Baloch (Davis Pold Wardwell) from New York, USA, Charandeep Kaur (Trilegal) from India, and a roundtable discussion moderated by Jack Shaw (Procopio) from California, USA. Jack Shaw (Procopio, Cory, Hargreaves & Savitch) from California, USA. The panelists gave presentations on "NFT and Art Transactions from a European Legal Perspective", "Analysis of the Current Situation of the Local NFT Industry in Dubai", and "Cases Related to NFT Transactions in the US".
Founded in 1991 in Tokyo, Japan, the IPBA Association plays a very prominent role in foreign law, cross-jurisdictional business cooperation and judicial proceedings (especially in international arbitration). Due to the epidemic, its annual meeting was discontinued and took the form of an international meeting of chapters, and its association is recognized by the National Ministry of Justice.
Digital artwork and NFT topics are increasingly widely watched and discussed, becoming a portal for the public to intuitively understand virtual assets, and attracting the attention of people from all walks of life, including artists, creators, and well-known artists. As a leader in the development of virtual asset compliance, New Huo Tech looks forward to creating more and better products and providing better services in the field of NFT in the future, and actively participating in the international scope of seminars and interactions.


About New Huo Tech
New Huo Technology Holdings Limited ("New Huo Tech", Stock Code: 1611.HK) is a leading one-stop crypto asset service platform. We are committed to leading traditional finance into the world of crypto assets, with professional, compliant, secure, and efficient services. Currently, the company services cover SaaS, virtual asset management, custody, OTC, lending and strategic investment.

New Huo Tech has a strong point of view on the importance of compliance. We have been actively applying for several virtual asset and finance-related licenses in major global markets. Up to now, New Huo Tech's subsidiaries have successfully obtained: (i) approval from the Securities and Futures Commission of Hong Kong to conduct Type 4 (Advising on Securities) and Type 9 (Asset Management) regulated activities and to manage portfolios that invest 100% in virtual assets; (ii) registered as a Trust or Company Service Provider ("TCSP") License (Hong Kong) and registered as a Trust Company in Hong Kong;and (iii) registered the Money Services Business (MSB) from the Financial Crimes Enforcement Network (FinCEN) in the United States.
Company Website:www.newhuotech.com
Investor Inquiry:[email protected]
Media Inquiry:[email protected]