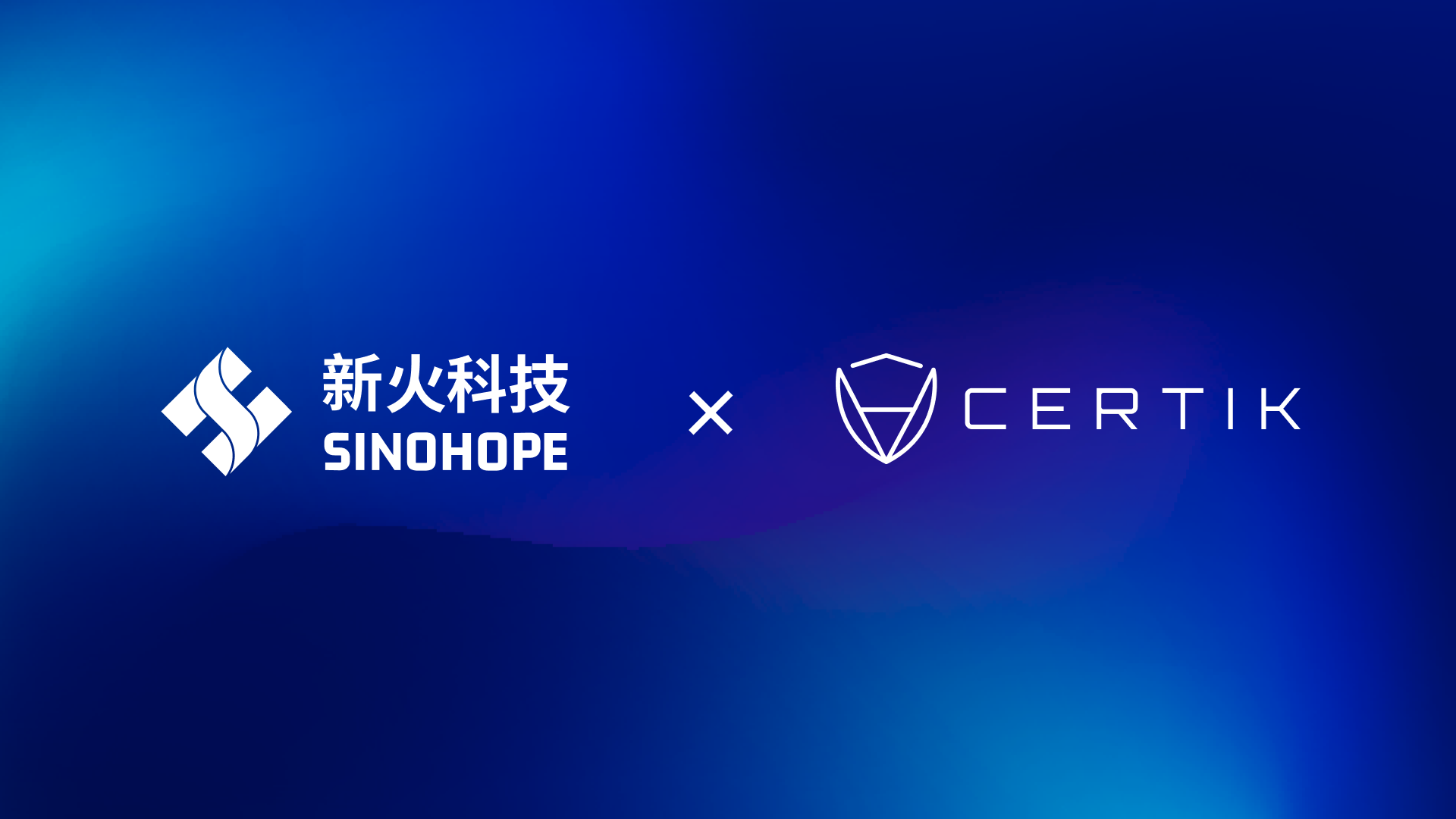 【27 Sep, 2023, Hong Kong 】Sinohope Technology Holdings Limited (stock code: 1611.HK, "SINOHOPE"), a comprehensive digital asset custody platform, and CertiK, a leading player in blockchain security, today announced a strategic partnership uniting the two companies.
SINOHOPE will provide CertiK with a virtual asset custody verification interface to verify whether the project adopts an asset custody solution, thereby verifying the project's centralization risk at the asset management level. Through this cooperation, both parties are committed to jointly promoting secure and transparent asset custody solutions, minimizing centralization risks in the private key management process, ensuring the security of user assets, and promoting the safe and healthy development of the Web3 industry. The two parties will also cooperate on providing secure and trustless custody solutions for crypto exchanges and institutions applying for Hong Kong VASP licenses.
In addition, SINOHOPE and CertiK plan to extend their collaboration through SINOHOPE's forthcoming "Web3 Open Platform." This platform will offer a suite of services, including data security, risk management, virtual asset financial management, and Wallet as a Service (WaaS). The objective is to address the diverse needs of Web3 projects, while standardizing trustless and secure custody procedures within the Web3 industry.
SINOHOPE's proprietary Multi-Party Computation (MPC) custody services are grounded in the latest MPC-CMP protocol. Utilizing a 3-3 multi-party signature scheme, the system requires tripartite participation to finalize transaction signatures. This setup significantly minimizes single-point vulnerabilities, thereby ensuring a high level of asset security.
Andrew Zhang, CTO of SINOHOPE, said: "Security incidents have occurred frequently in the Web3 field in the past two years. Ordinary software wallets face multiple risks such as private key leaks, internal evil, and force majeure in the physical world. MPC self-custody technology can better realize trustless management of virtual assets. The powerful combination of SINOHOPE and CertiK can effectively protect the security of user assets and establish asset security standards in the industry. At the same time, we welcome cooperation with more security institutions to jointly promote the positive development of the Web3 ecosystem."
Jason Jiang, Chief Business Officer of CertiK, said: "We are very pleased to reach a strategic partnership with SINOHOPE. CertiK's mission is to enhance the security and transparency of the blockchain industry, and this partnership will help us jointly advance the safe and healthy development of the Web3 industry. We look forward to providing users with safer and more trustworthy virtual asset management solutions through this cooperation and setting a benchmark for the entire industry."
About CertiK
CertiK is a pioneer in blockchain security, combining expert manual review with best-in-class AI technology to protect and monitor blockchain protocols and smart contracts. Founded in 2018 by professors from Yale University and Columbia University, CertiK's mission is to secure the web3 world. CertiK applies cutting-edge innovations from academia to enterprise, enabling mission-critical applications to scale with safety and correctness.
One of the fastest-growing and most trusted companies in blockchain security, CertiK is a true market leader. To date, CertiK has worked with nearly 4,000 enterprise clients, secured over $360 billion worth of digital assets, and has detected almost 70,000 vulnerabilities in blockchain code. Our clients include leading projects such as Aptos, Ripple, Sandbox, Polygon, BNB Chain, and TON.
CertiK is backed by Insight Partners, Sequoia, Tiger Global, Coatue Management, Lightspeed, Advent International, SoftBank, Hillhouse Capital, Goldman Sachs, Coinbase Ventures, Binance, Shunwei Capital, IDG Capital, Wing, Legend Star, Danhua Capital and other investors.
About SINOHOPE
Sinohope Technology Holdings Limited (stock code: 1611.HK, "SINOHOPE") is an all-in-one platform for digital assets custody, focusing on digital asset custody and provides a variety of custody solutions to help every enterprise use digital assets safely and conveniently. SINOHOPE adopts MSC-CMP technology to support users to manage private key fragmentation and collaborative signature in a distributed way, which solves the single point risk of private key and effectively increases transparency and ease of use.
Adhering to the principles of security, compliance, professionalism and diversity of services, SINOHOPE provides easy-to-use centralized and decentralized mixed services. Based on the MPC self-custody platform and licensed digital asset custody services, SINOHOPE also provides customized OTC desk&lending, virtual assets management, staking services, WaaS(Wallet as a Service) and other products and services for institutional and high net worth clients.
Company Website:www.newhuotech.com
Investor Inquiry:[email protected]
Media Inquiry:[email protected]